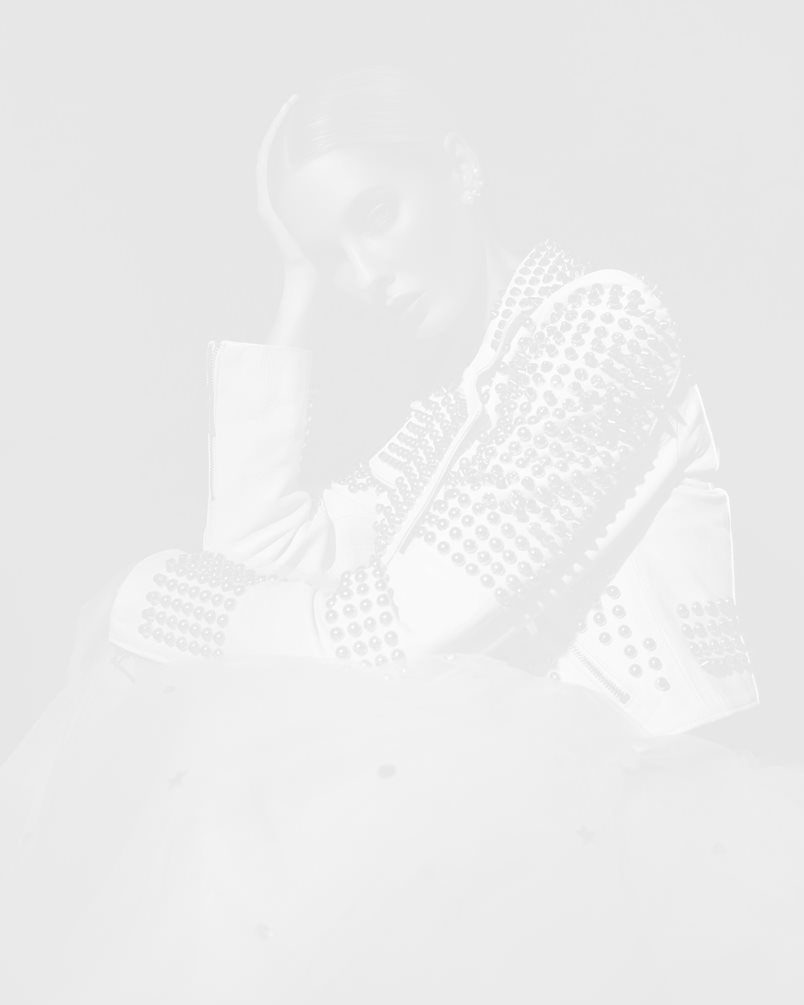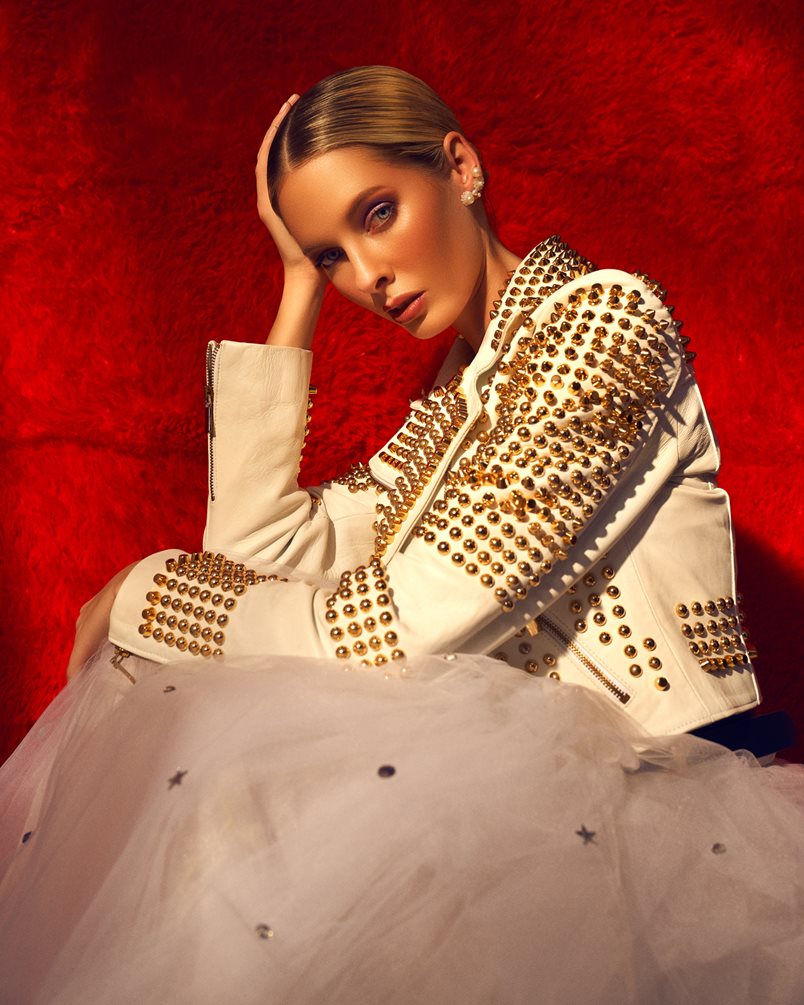 • Photography: Rutvik Katuri • Makeup: Charina Redugerio • Hair: Ava Mihaljevich • Wardrobe: The Confessional Showroom NYC, Flying Solo NYC
Emily Fay has already made a significant impact in the modeling industry. She's the IRL epitome of fearlessness and is not afraid of taking risks. It's true, our digital cover star also loves getting out of her comfort zone. That's where miracles happen. See for yourself!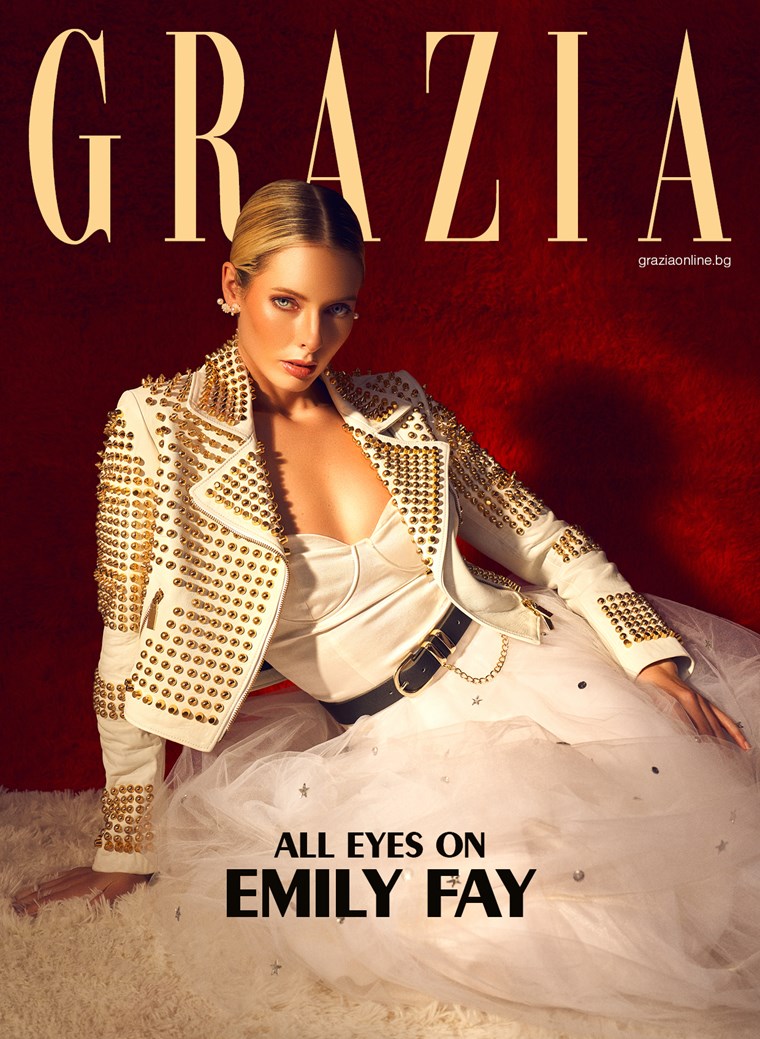 Leather Jacket by Alessandra Grimoldi, Skirt by Ontavia Roulette, Earrings by House of Vincent
Do you remember how you fell in love with the water and the oyster business?
I've had a fascination with the ocean for as long as I can remember. Being raised in Massachusetts, a state with a rich maritime history, my family and I would spend our summers at the beach or Cape Cod, which created some of my fondest memories. It just seemed natural to pursue a career that would allow me to spend more time in an environment I'm passionate about. My strong interest in malacology - the scientific study of mollusks and their shells - led me to volunteer at the New England Aquarium in their coral reef research lab. With that experience, I was able to secure a position as a hatchery technician in aquaculture, where I successfully spawned and cultivated millions of oysters for human consumption.
What would you advise people who want to change their profession?
If you're considering a career change, I would advise focusing on where you need to build your knowledge, without worrying about the optics of a transition. Don't get bogged down by concerns about your experience or whether you know enough to make the switch. Instead, think big and clarify where you want to be. From there, it's simply a matter of identifying the gaps and figuring out how to fill them - whether through courses, volunteering, or other experiences. My philosophy is to take action and avoid worrying about the details. This way, you can quickly determine the necessary steps to get to where you want to be.
If you could go back in time, would you do things differently?
I don't know if I would do things differently because the lessons I've learned along my unique path have been invaluable. However, if I could go back, I would offer my younger self some important advice: never underestimate what you're capable of, always pursue what you want, and don't wait for the "right moment" to take action. That being said, it's also true that hindsight is 20/20. There's little value in dwelling on past mistakes or missed opportunities. Instead, it's more productive to focus on the present and what you can do moving forward. I've come to realize that it's important to let go of things that no longer serve you and concentrate on what you can control.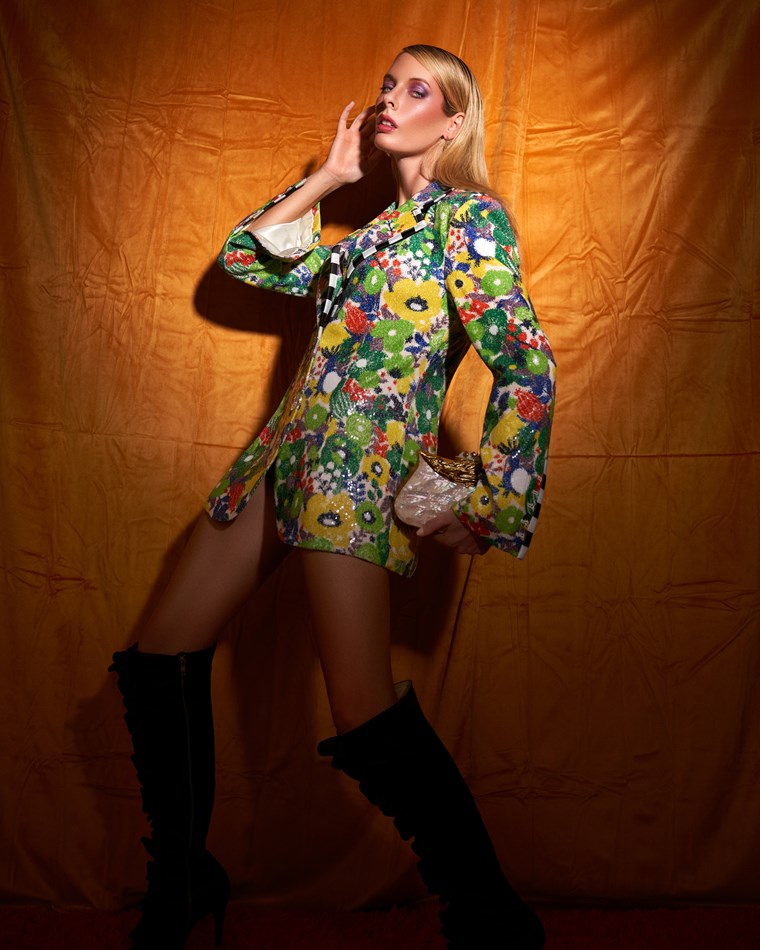 Jacket by Vivienne Pash, Shoes by 2Madison Avenue, Clutch Bag by Taleed, Earrings by Seven Saints
What inspires you?
I find strong and driven women particularly inspiring. Especially those who are self-made or those who are game changers within their industries, challenging the status quo. Some of my favorite examples include Taylor Swift, who famously negotiated her record deal to own all her future masters, recognizing the true value of her artistry. Another inspiring woman is Alexandra Cooper, the creator of the "Call Her Daddy" podcast, a safe platform for women to openly discuss sexuality without fear of judgment. I also have profound respect for Maria Grazia Chiuri, the creative director of Dior, who has used her platform to promote feminist and philosophical ideas in the art form of fashion. Rihanna, too, is a great source of inspiration - a true self-made boss who has excelled in multiple fields. I am really excited about the growing number of women who are taking on traditionally male-dominated roles, including those who have reached the pinnacle of their careers. Looking at what these women have accomplished makes me believe "Why not me next?" - and hopefully, others feel the same way.
When did you feel the need to change your life? And why?
I felt the need to change my life when I realized that I had become complacent and was making myself smaller to please others. I've always been unafraid to try new things and take risks, knowing that failure can be a valuable learning experience. But I had reached a point where I was too comfortable and was afraid of shaking things up. Once I recognized this, I knew I needed to make changes - and quickly. Now that I've emerged on the other side, I am incredibly proud of myself.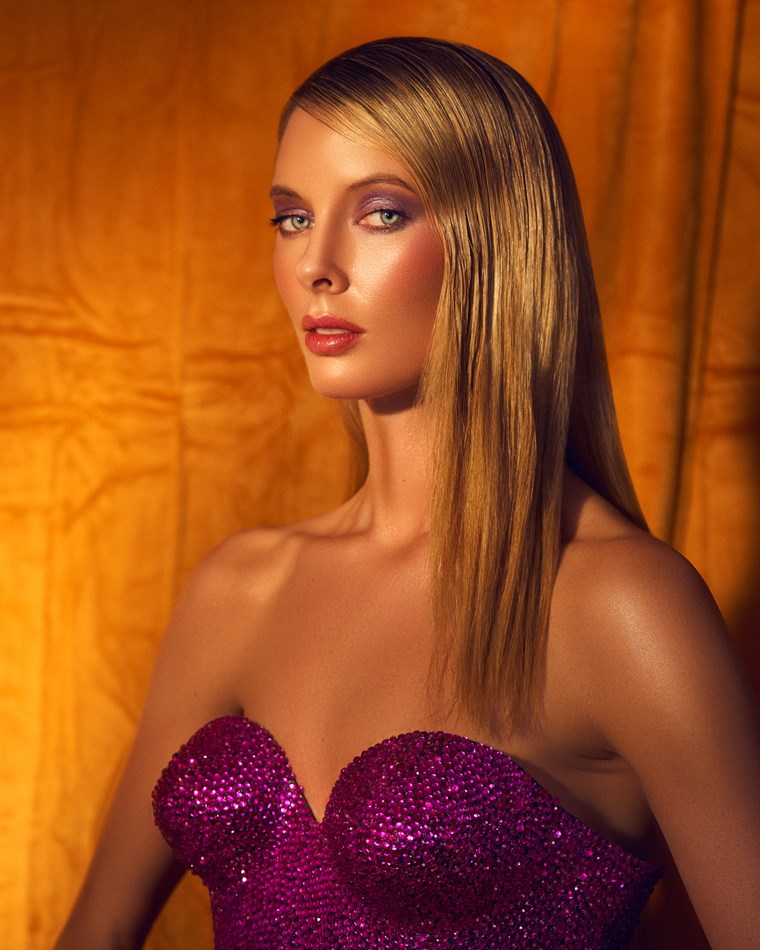 Corset by PEDRO JUAN ATELIER, Gloves by HALEIA, Shoes by 2Madison Avenue
Modeling requires a lot more traveling and your schedule must be a lot busier…
Traveling is truly one of the joys of working in this industry, so I don't view it as a hassle, but as a privilege. My schedule is indeed more packed than ever these days, but the opportunities that come with it are so incredible that I'm able to switch into high gear to take it all on. I feel it the most when I have a day or two that are less busy; that's when I realize how much momentum I have going and how much I enjoy staying active every day.
Did you always believe that one day you would model?
As a child, I actually dreamed of becoming an actress. That's why I initially pursued acting before I went into modeling. I was trying to push myself out of my comfort zone and also explore something I'd always been interested in. I landed a few small roles and had the opportunity to work with professionals on-set, which taught me a lot about what it takes to embody a character. However, I ultimately realized that acting didn't feel quite right for me, and that was both disappointing and enlightening at the same time. It wasn't until I discovered modeling that I found my niche. I realized that modeling is a lot like acting, with emotions conveyed through body language and eye contact. Although I never expected to become a model, in many ways, it feels like the greatest acting role of my life.
What is your biggest dream now?
At the moment, my biggest dream is to keep pushing myself as far as I can go. I'm constantly striving to achieve more and to work as hard as possible. I do have certain goals that I'm keeping private, as I don't want to lose my motivation by announcing them publicly. Instead, I just want to focus on the day-to-day grind and see how far that can take me. All I can say is that there are big things in store for me, and I'm excited to see where this journey will take me!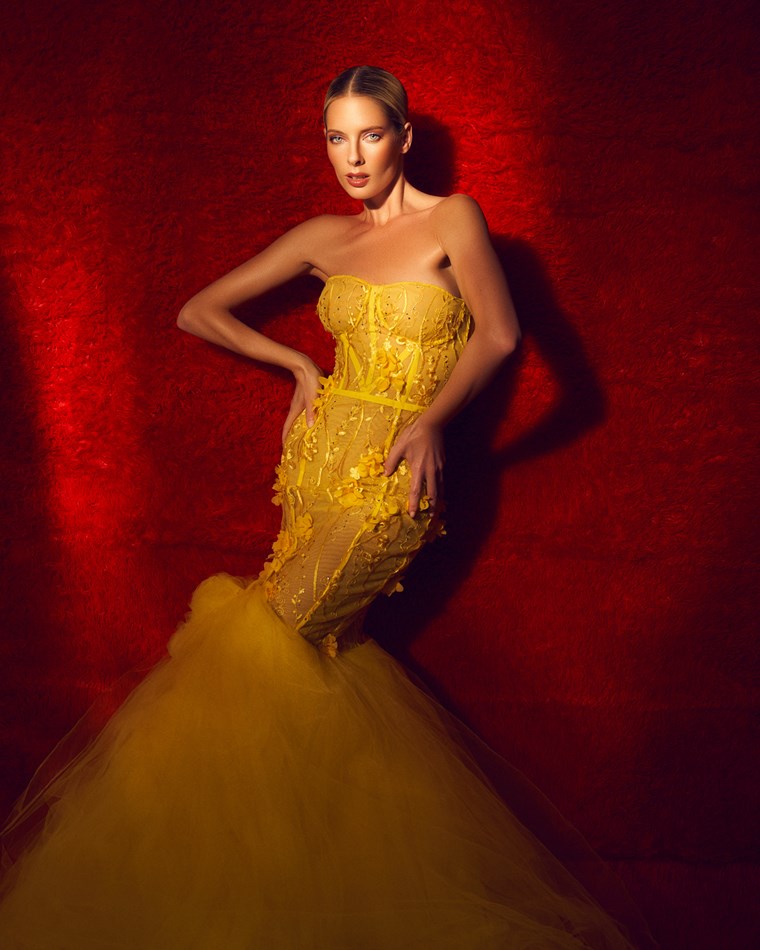 Dress by Melesia Robinson
What made step out of your comfort zone?
The fear of being too comfortable and complacent, to the point that I might never be able to achieve the things I really wanted. I had this strong desire to be respected in my work, to be someone who had it all together and to be a great friend, but I realized that I was expending my energy in ways that weren't serving me. When I finally took a step back to ask myself what I really wanted and whether my current actions were helping me get there, I saw that I was wasting a lot of energy on dead ends and relationships that weren't going anywhere. That realization pushed me to let go of what wasn't authentic to me and to try building a new direction, even though it was going to be uncomfortable.
Have you changed as a person since working in the fashion industry?
Yes, I've definitely changed a lot since I entered the fashion industry. The biggest change has been that I've become much more confident in myself as an individual. Taking the risk to pursue my dreams has paid off, but it wasn't an easy journey - I put in a lot of hard work and did a lot of research on my own, without help from anyone else. By leaning into my intuition, I've successfully carved out a career in the industry and that has given me a tremendous sense of confidence. This newfound confidence has positively impacted all aspects of my life, and I'm excited to see how I can leverage it as I continue to pursue my dreams.
What's next?
While I do have personal goals outside of the fashion industry, right now, I'm trying to focus completely on the present and making the most out of every opportunity that comes my way. I've come to appreciate the importance of being present at the moment and not just looking ahead to the future. So for now, I'm just taking things one day at a time and seeing where my passions take me.