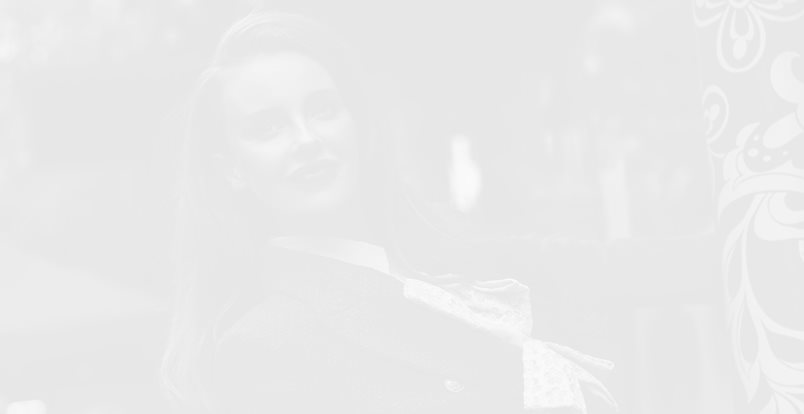 Photography: Vlady Vala Styling: Arina Orlova Makeup: Caterina Mannarino Hair: Erika Selvaggio PR: Wavemags
Just like us, the talented Georgia India Crossley has a strong passion for fashion. She embodies it in every vision, as well as in her own brand The Gee Gee Collection. She also does not hide that she is a perfectionist and works hard to get where she is. What else? Read for yourself.
How hard it is to start your own brand?
In the beginning it was very difficult, especially since I had no idea about anything business related. I only have experience in design so it was very challenging to get things up and running. Even my 1st collection took me almost a year to complete as there were so many times I would create a garment & the fabric didn't work with the silhouette or it didn't look like how I imagined. As I am a perfectionist, I didn't want to start with a collection I wasn't totally happy with or didn't meet my expectations as a designer since this is something your name is tied to (you can't rush perfection!). It did take a lot longer than I had anticipated to start up, but as soon as you have a clear direction and dedication, everything starts to fall into place.
Get the look: Jacket The Gee Gee Collection, Calzedonia tights, Aldo shoes, The Gee Gee Collection shorts
Outerwear clothing seems like an interesting field to pursue…
After watching a masterclass a few years ago with Diane Von Furstenburg, she made a comment that "everything in fashion has already been done, so if you want to make it in this field you need to be different." This led me into designing chic & distinctive outerwear garments for women. I love the fact that you can be wearing really simple clothing, or a traditional little black dress and put on one of my pieces and your outfit is completely transformed.
Please, tell us, what is the perfect jacket for the spring/summer season so it's not too hot and not too cold?
I would suggest something like the Heidi jacket which is available now on geegeecollection.com - perfect for summer as it's nice & light, but still gives you enough cover to stay warm whilst looking stylish.
Some people find inspiration in songs, others in movies. Where do you look for yours?
One thing I love about being a designer is that inspiration can be drawn from anywhere in life, so the more you live, the more creative you get. A vacation, a vintage find, an era in time or even a person can give me a vision for my pieces. The woman I design my pieces for, however, is always at the forefront of my process. She is carefree, international, bohemian and individualistic.
Do you have any style icons?
I love Kate Moss, she can literally put on anything and always just looks so cool.
If you don't have to go out or stand in front of the camera, what are you usually wearing?
During the day, I try to dress elegant, but comfortable. I feel comfortable in brands such as Acne and Isabel Marant. I also love Zara and Uniqlo for basics.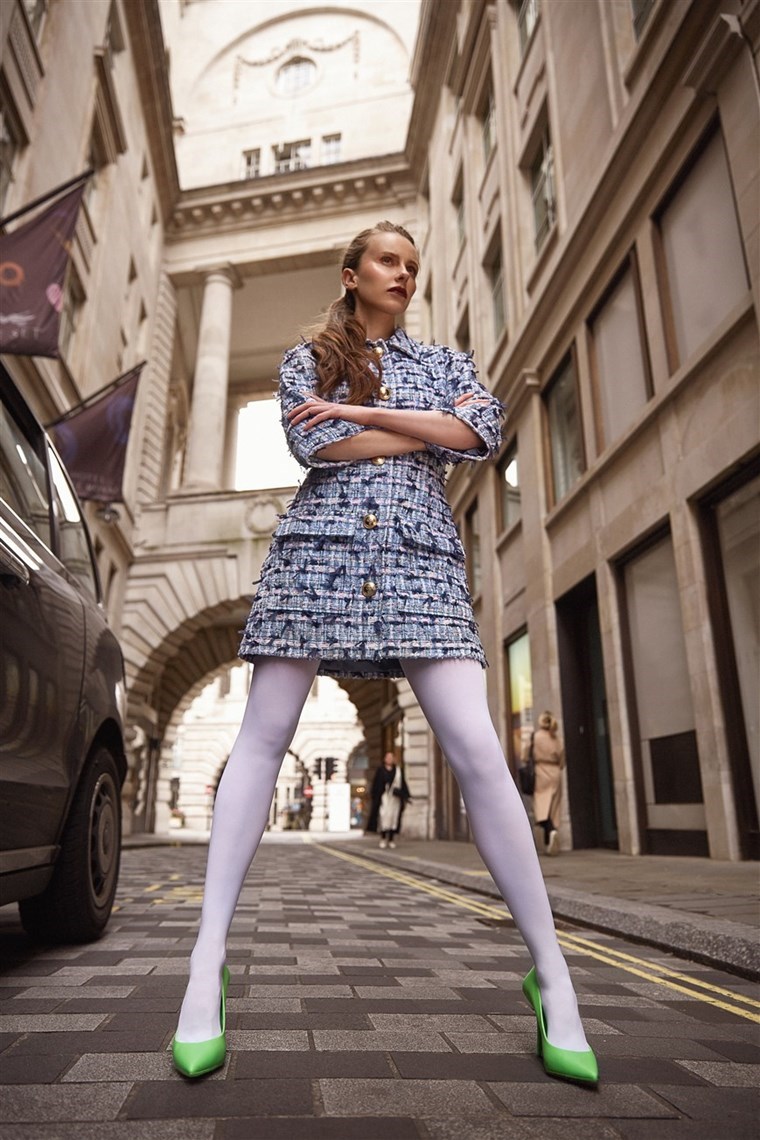 Get the look: Jacket The Gee Gee Collection, Calzedonia tights, Aldo shoes
I know you are dedicated to sustainable fashion. This is getting more and more important lately, right?
As I am a bit of an environmentalist, when I began researching manufacturers for my brand, I wanted the process to be sustainable, better for the planet and in line with my personal values and ethos. For this reason, my collections are small and carefully considered and I have avoided mass production by sourcing fabrics that are handmade in Europe and tailoring from local manufacturers in the UK.
If you could make a collaboration with one worldwide fashion brand, who would it be?
I would probably choose Alexander McQueen as it's the fashion house where I started my career and it's such an iconic, luxury brand with integrity. I have so many great memories working at this brand and learnt so much about the fashion industry here. I love the bold prints they create and the garment silhouettes are so iconic and respected internationally.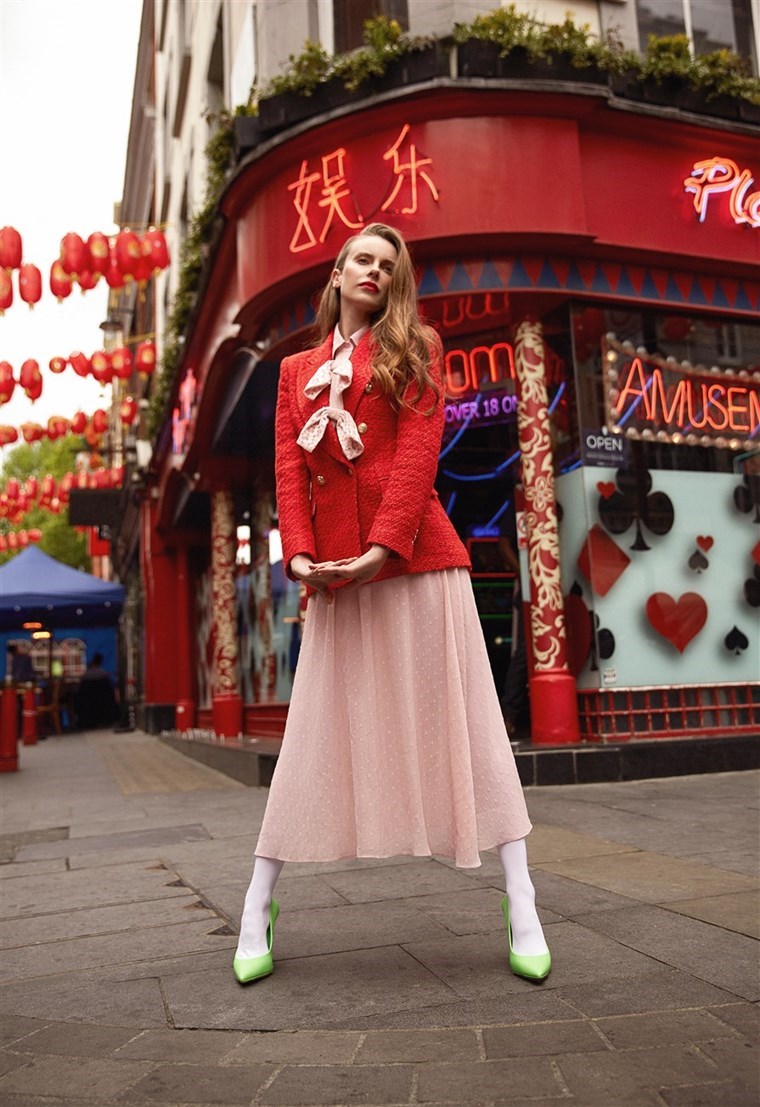 Get the look: Zara jacket, Livia Tang dress (Hundred Showroom), Calzedonia tights, Aldo shoes
Is the biggest success in life being successful?
I think the key to success is found through happiness and to be happy, you need to live through your passion and find your calling. Success can mean different things to different people, but for me it definitely means designing and creating pieces and the feeling I get when people buy them and they are well received.