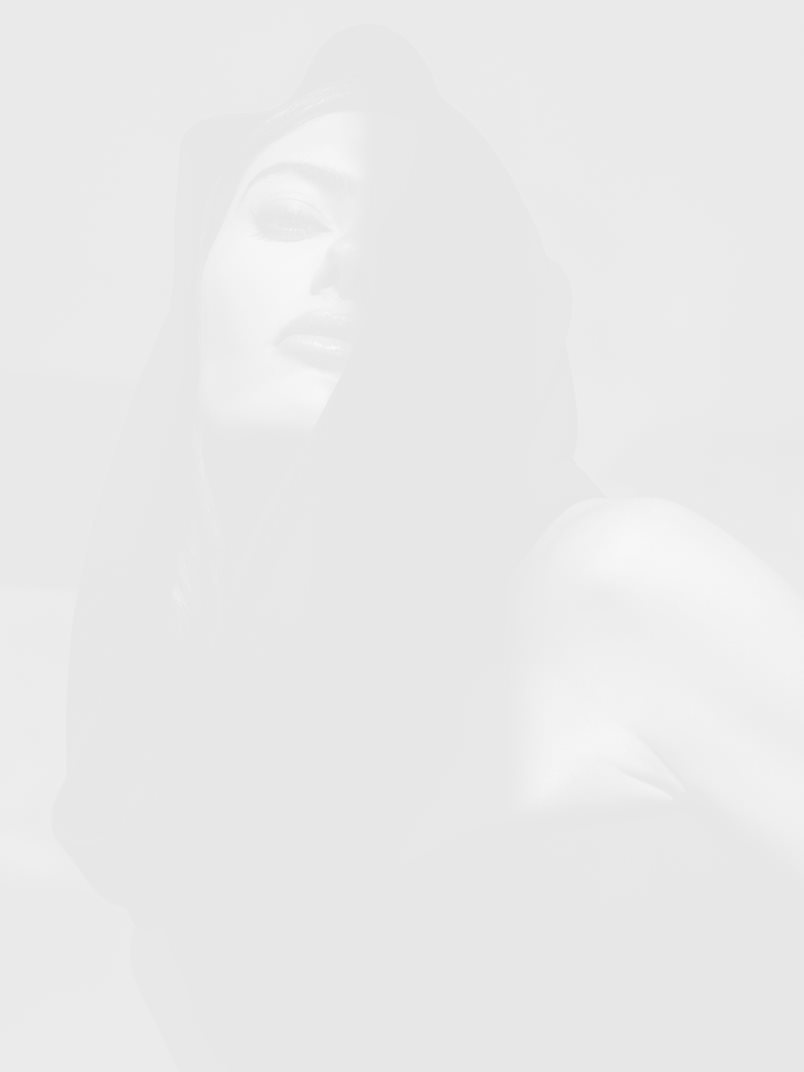 Ferragamo Cowl-Neck Hood Asymmetric Midi Dress Luvente Gold Two-Tone Bracelet UNOde50 Gold Unusual Ring
Model: Kyla Shay
Photography: Ben Tsui
Assistant Photographers: Ferid Hasbun and Jason Flynn
Videographer: Javier Guerrero
Hair and Makeup: Michelle Rodgers
Wardrobe Stylist: Krystal Collier
Assistant Stylist: Kaci White
Agency: The Industry Model Management LA
Clothing and Accessories Provided by: Michele Marie PR, Preface PR, Brooklyn PR, Maison Privee PR, & Neiman Marcus Fashion Island
Weisheng Paris Silver mirror/metallic dress Adiba Purple stone Pearl Earrings Luvente White Gold Diamond Bracelet
Can you tell us about your background and how you got started in the makeup industry?
I was born in the San Francisco Bay area, and as early as I can remember, I had a passion for makeup and fashion. I was constantly playing with different foundations, lipsticks, and eyeshadows. If it had color, my hands were in it! I eventually got my cosmetology license, and I've been on a journey ever since working with and learning from many photographers, wardrobe stylists, and models. I have such a passion for the art and all that goes into it, that I've become a producer so that I can bring together all the different groups. When you get that magical look and photograph, it's all worth it.
How do you approach creating a makeup look for a photoshoot?
Photoshoots are challenging because they have so many moving parts. First, I want to understand the model and their portfolio so that we can create a photoshoot that is original but also fits the model. Once, I have an idea of some potential looks, I like to coordinate with a wardrobe stylist who is essential for making the looks come to life which allow the models to work their magic. For any shoot, we usually want to create 2-3 looks. I think it's best to start with a clean and simple beauty look, and from there build each subsequent look based on the changes in wardrobe, mood, etc. Things get really exciting when a shoot takes on a life on its own, so I want to be ready to make adjustments on the fly.
Rainbow Rhinestone Fishnet Black Midi Dress H.Crowne Hailey Hoops Silver White Circle Crystal Diamond Hoops.
How do you approach working with a team such as photographers, stylists, and models?
This is a great question. I think the most important thing when working with a team is trust. Because a photoshoot has so many moving parts with so many different people, you've got to establish trust or it just won't work and the end product suffers. When looking for a team, I look to create an open atmosphere of communication right from the start. I share my ideas, and I encourage others to share theirs. Once people know you are willing to listen to them, trust grows and creativity soars. The best looks often result from this type of exchange of ideas.
How do you manage your kit and keep your products organized and clean?
Your kit is a feature of your brand and who you are. No client wants to see an unorganized kit on your workstation. It shows what kind of an artist you really are and that you care about your cleanliness. All makeup brushes are properly washed and ready to go. I use disposable items such as mascara wands, spatulas, lip applicators, etc. along with alcohol hand wipes. When I am done with my day, I take everything out of my kit, give it a good cleaning and prepare for my next shoot day with a new client.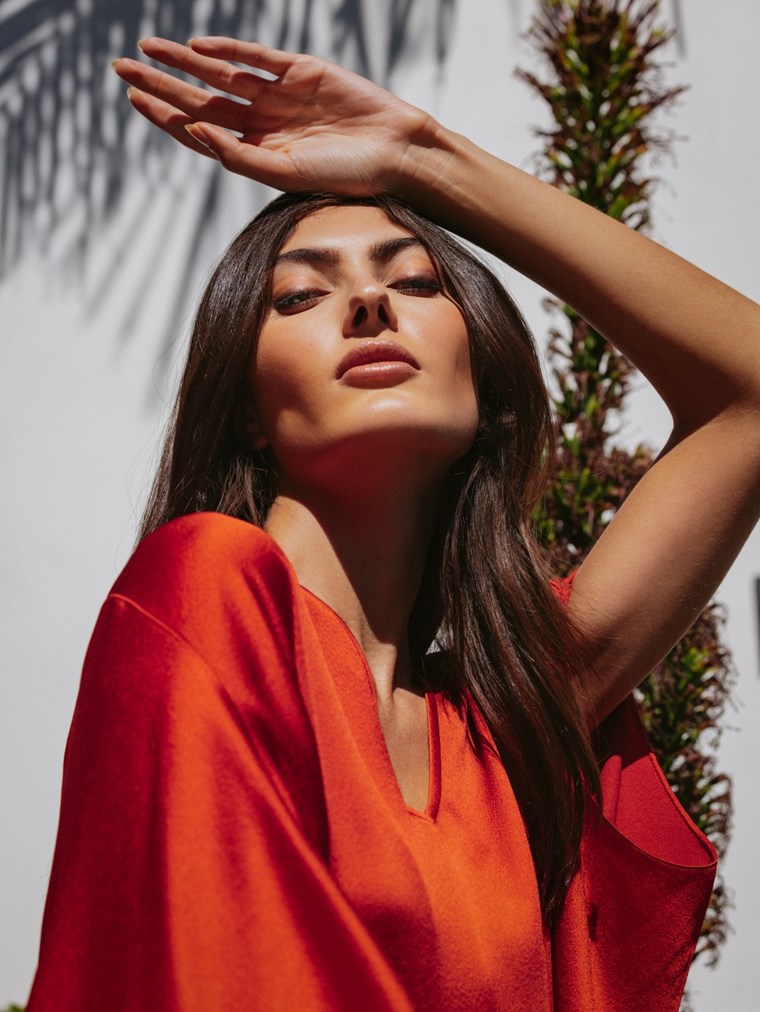 Michael Kors Charmeuse V Neck Long Kaftan Dress Charles & Ron Black Top Handle Bag Ice Link Gold Diamond Encrusted Bracelet
Can you walk us through your process for creating a look for the red carpet?
To start, I like to have a conversation with my client to figure out what their expectations are for the look they wish to have. Once that is established and I give my recommendations, we can begin. I will start with a mini facial, give it a good massage, and really work the products in. Skin should look hydrated, bright, and refreshed! Now I can start to apply makeup. Natural light is always the best to use if its available to you, or you can always use makeup lighting. Once I have
completed my look, I will do still and video testing to make sure I have done a proper application. Then, with the approval of my client, and some finishing touches, my client is now ready to walk the red carpet!
Can you share any advice or tips you would give to aspiring makeup artist?
Yes! Start with education. There is so much out there to learn. Be knowledgeable about products. Understand the client you are working with as each client will have different needs for skincare and makeup. Pay attention to everything including the smallest of details. Always be humble and professional, you never know who in the industry is watching how you work. Most of all, just keep working, even if the job seems like a waste of time, just do it, you never know
what will happen from it.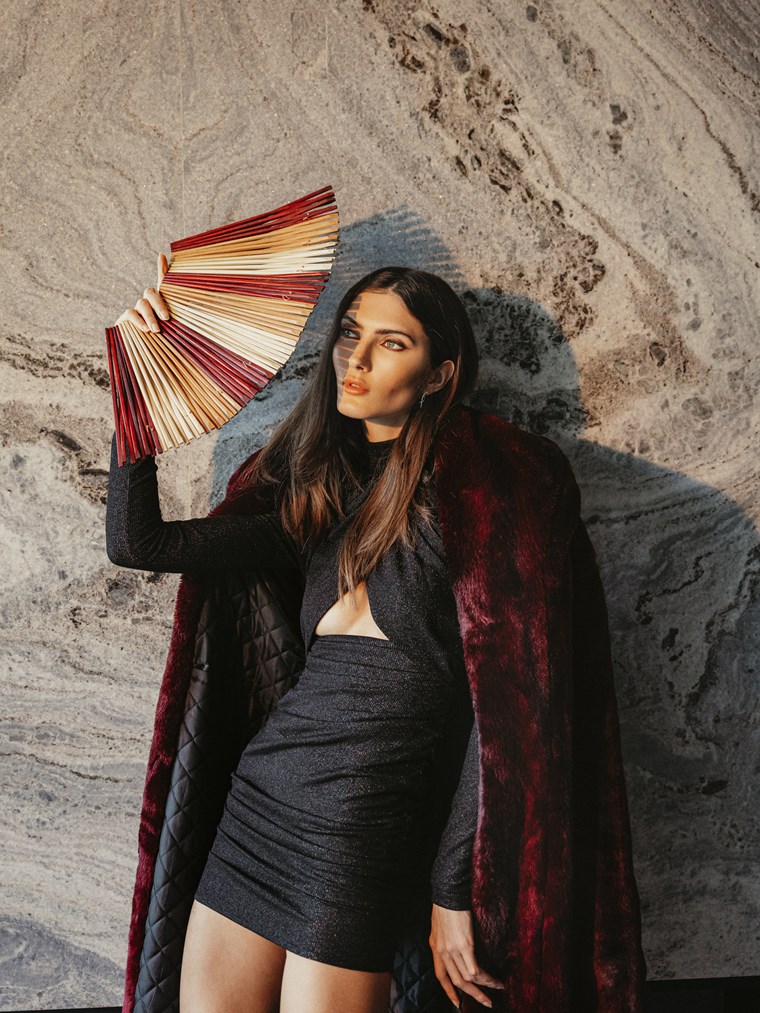 Nemozena Black Ruched Shimmer Mini Dress Meli Red Faux Fur Coat Gabriel New York White Gold Diamond Drop Earrings